Benbow Group Ltd
1 Minerva Way
Brunel Industrial Estate
Newton Abbot
Devon
TQ12 4PJ
The Benbow Group excel in the demanding business of fitting out and refurbishing the interiors of prestige commercial offices, high quality retail stores, museums and leisure facilities to the very highest standards; either as principal contractor or as a specialist package sub-contractor as required.
The results can be seen in blue chip plc offices, government buildings, museums, retail stores, hotels, leisure clubs and many other buildings. No two projects are ever the same, but a consistent quality is achieved through a vast fund of expertise allied to evolving working practices tried and tested over six decades.
The company is committed to achieving customer satisfaction by the use of rigorous quality procedures both in the workshop and on site. It is the policy of Benbow Group to always provide our customers with goods and services which adhere to agreed requirements, drawings and price. The directors, management and staff are responsible for the quality control through the Quality Management System, seeking improvement by constant review; suppliers and sub-contractors are encouraged to co-operate.
As a specialist company whose reputation is paramount to our future success, we carry out the vast majority of the work in our own 50,000 sq ft workshops. With skilled craftsmen in joinery, metalwork, veneering, polishing as well as our own electrical specialists, we are able to maintain the highest standards of quality throughout any scheme.
With both existing and new clients we encourage close working partnerships to ensure satisfactory completion of a project. With years of experience on interior projects we can offer a number of services including technical support to deliver the products and services needed to complete what is often a fast track program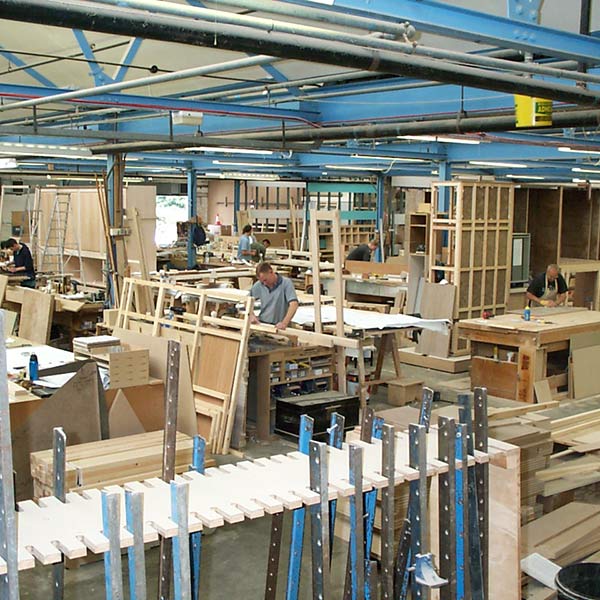 Specialist Joinery
Our Specialist Joinery division combines traditional craftsmanship and a wealth of experience with state of the art cnc machinery to produce the highest quality joinery. Apprenticeship and trainee technician schemes ensure that key craftsmanship skills are passed on to future generations.
The specialist Joinery division includes:
Design & Development
CNC Machining and Edgebanding
Joinery and finishing
Veneering
Spraying and lacquering
To read more about our Specialist Joinery & Architectural Metalwork click here
Architectural Metalwork
The Architectural Metalwork division delivers a complete solution for bespoke architectural metalwork, from design & development through manufacture to delivery and installation. Apprenticeship and trainee technician schemes ensure that key craftsmanship skills are passed on to future generations.
The Architectural Metalwork division includes:
Design & Development
CNC Milling
Welding
Polishing
Bronzing
To read more about our Specialist Joinery & Architectural Metalwork click here